See Collection
Fine Quality-with Signature Collection
CAKE O CLOCK Pakistan's luxury cake boutique. We bake magical, edible artistic cakes and desserts to bring delight and joy to your special moments.
Get Super Duper Discount...
oOoOh You Need More Discount..!
Subscribe our YouTube Channel or Click on Bell Icon and Get Super Duper Discount.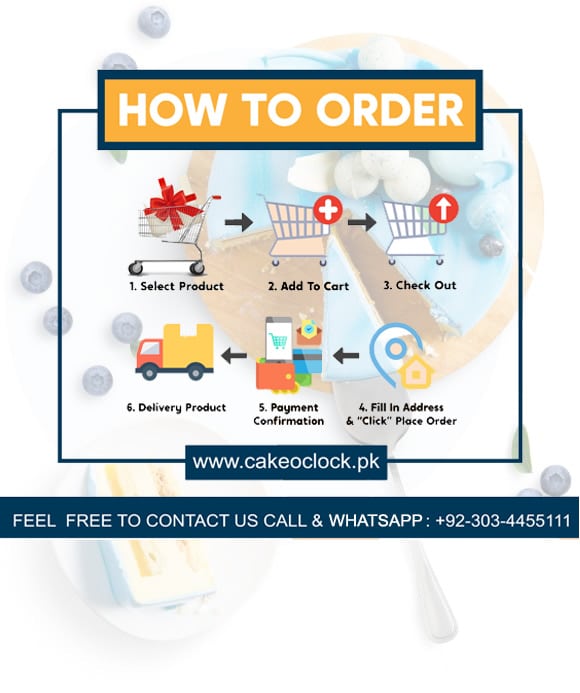 Want to send Gifts to your Family & Friends!
Its Really Easy or Friendly Gifting Site....
1st See Gift from website,2nd Select gift or ADD TO CART,3rd go on CHECKOUT PAGE, and fill Sender or Receiver details and in Last transfer your payment. Finally Now everything is done. Your Gift will be deliver to Selective DATE OR TIME to your Loved Ones...
Share your Reviews on Google..!
our customers is our 1st priority..
This is my third time ordering from cake O clock. They always impressed me. Outstanding cakes and taste. They made my cake just like I wanted it. It tastes very very good. Highly recommend Cake O clock for the best custom cakes !!!
Really great taste you people make my anniversary special thank you cake o clock for special cake.
Really Great Experican with cakeoclock , Thank you for this sweet taste or on time cake delivery
Send Gifts to Pakistan from USA, UK, Canada, Saudia Arabia, and all over the world.
Sending gifts to your loved ones is a part of Pakistani culture. The reason is that the gifts are a way to express the love, importance, and respect you have for the other person. Who does like to get gifts and send them to others? Customize Chocolates gifts items, unique gifts, designer cakes, Flowers bouquet, teddy bears greeting cards, and perfumes are the various types of gifts that people give to each other. Now you have the opportunity to send gifts to your loved ones in Pakistan as well. The various options include cakes, flowers e.g. glades, lilies, and other mixed flower bouquets. You can also send chocolates and cakes. Quality is guaranteed. You can also send toys, mobiles, watches, Men's kurtas, and ladies dresses to Pakistan as well along with fruits and mithai. The supreme happiness of life consists in the conviction that one is loved. Therefore, send chocolates, heart-shaped cakes, velvet cakes, teddy bears, jewelry, and rings to your beloveds in Pakistan to tell them how much you love them. Make your parent's day special by sending them best Dad, best mom mugs, towels. Send your grandparents gifts to make them happy. Select from a variety of gift baskets of chocolates, fruits, mithai, bakery items, biscuits, and confectionery. Spread the love by sending quoted pillows, towels, and suits to your loved ones back home to Pakistan. Gift delivery Services for overseas Pakistani – send gifts to Pakistan
Send Flowers to Pakistan from USA, UK, Canada and all over the world.
To make your feelings known, you can send flowers to Pakistan on various occasions. Select cakeoclock.pk for sending flowers to your loved ones on various occasions in Pakistan. Be it a birthday, Christmas or an anniversary, send flowers with a lovely note and give the perfect gift for the occasion. Select your flowers from various resources that are available online. Find the flowers according to the country at cakeoclock.pk . For a speedy, trouble-free, and affordable delivery from USA, UK, and Canada, select cakeoclock.pk  to send flowers to Pakistan. We have a number of different types of flowers for same-day fresh flower delivery in various cities of Pakistan including Karachi, Islamabad, Lahore, and various other cities as well.
Send Cakes to Pakistan from USA, UK, Canada and all over the world.
If you have been out of Pakistan for a long while but want to keep up with the relations back at home, you can send various gifts to your loved ones. The most effective gift for every occasion is a cake. Therefore, send cakes to the loved ones in Pakistan. At cakeoclock.pk you can send a number of cakes to Pakistan from the USA, UK, Canada, and various other countries of the world, not only to the famous cities like Karachi, Lahore, and Islamabad but a number of other cities as well.
Why use cakeoclock.pk to Send Gifts to Pakistan? Customers Testimonials
I wanted to send a special gift to my sister as her birthday was coming up. I was thinking about my family and wanted to be with them which was not possible. Suddenly, I had an idea and I started searching online for a website through which I could send gifts to Pakistan. There were a number of sites there due to which I got confused. Then I found cakeoclock.pk which got my attention. There were a number of different gifts and a large variety of cakes available. So I got confused again as I couldn't select the perfect gift for my sister.
Not only are there a lot of options about gifts on cakeoclock.pk but also various other services as well. I had options for sending photos, mithai, fruits and so much more to my family in Pakistan. I also found a nice suit for my mother as I was browsing the site. There were numerous other options as well as a blood pressure monitor, mobile phones, perfumes, chocolates, and flowers. Therefore, I selected various things for my family. I had an amazing experience with cakeoclock.pk for sending gifts to Pakistan and that too in time.
Categories:
Send Flowers to Pakistan – Send Cakes to Pakistan – Send Chocolates as Gift to Pakistan – Send Mithai to Pakistan – Combination of Gifts to Pakistan – Send Flower & Cake Combinations  – Send fresh Fruits basket to Pakistan –  Send Baby Stuff to Pakistan – Send newborn baby gift to Pakistan – Send Fast Food Deals to Pakistan – Send Lal Qila Dinner Vouchers to Pakistan – Buy or Send Marriot dinner Vouchers to Pakistan – Send PC hotel Dinner Vouchers to Pakistan – Send KFC Deals to Pakistan – Send fresh meal delivery from McDonald's to Pakistan – Delivery of Pizza Hut Deals by online gift shop – Send Gift for Her to Pakistan – Send Gift for him – Greeting Cards to Pakistan – Dry Fruits to Pakistan – Kids Block –Send Perfume for her – Send Perfume for him – Send Gifts to Pakistan – Send Grocery to Pakistan – Send Wedding gifts to Pakistan for bride Shadi season – Gifts Delivery Services in Pakistan – Send Designer cake to Pakistan – Send Customized cake to Pakistan – Send Gift to Lahore –  Send Gift to Karachi – Send Gift to Islamabad – Send Gift to Rawalpindi, send Eid gifts to Pakistan